Notable Women  – Since 1987, the Indiana County Branch honors Notable Women in our county who have contributed significantly to improving the climate for women, girls, and families in our community. Please see our list of NOTABLEs here: AAUW's Notable Women
SCHOLARSHIPS  The Indiana County (PA) Branch of the American Association of University Women announces scholarship awards for the next Academic Year. These scholarships are offered in cooperation with AAUW Collegiate Institutional members Indiana University of Pennsylvania and Saint Francis University. We offer $1,000.00 scholarships to women students attending either Indiana University of Pennsylvania or Saint Francis University whose career goal is to exemplify AAUW's mission to advance gender equity for women and girls through research, education, and advocacy. Selection is based on financial need, academic promise, clarity of goals and future potential.  Scholarship candidates must be available to attend a video-interview (TBA).   Deadline to apply is April 21, 2022 (must be received by 11:59 p.m.) Winners will receive their $1,000 awards by May 31. This year's Scholarship Applications are open FEB. 1, 2022.
Eligibility Requirements:
A current IUP or SFU undergraduate or graduate student who identifies as a woman .
Has earned at least 24 undergraduate credits or 6 graduate credits by the end of the current academic year.
Has a 3.0 GPA or better.
Click here for an Online Application.
---
PROFILE OF 2021 SCHOLARSHIP Winners
Saint Francis University graduate student Madison Book is pursuing  occupational therapy. Her career goal is to be a pediatric therapist and researcher to help children, especially girls, that are diagnosed with challenges such as ADHD and Autism Spectrum Disorder. Ms. Book grew up in Huntington County in Mapleton Depot. She currently lives on campus.
Melanie McConnell is a candidate for a Master of Safety Sciences degree at Indiana University of Pennsylvania. Her goal is to pass the Certified Safety Professional exam and earn a position in industry as a director of health and safety. An immigrant from Trinidad, Ms. McConnell became a U.S. citizen in 2019. She currently resides in Philadelphia and is earning her degree online.
AAUW SCHOLARSHIP WINNERS were:

FOR 2021
MADISON BOOK,
Saint Francis University, and
MELANIE MCCONELL
 Indiana University of Pennsylvania. FOR 
2020
ROSALINDA RIVERA,
Saint Francis University Women's Studies & Criminology Major and 
CHLOE TUBBS,

Indiana University of Pennsylvania Music Major
2015 Notable Women: Vera Bonnet, Lil Clemons, Dr. Carolyn Princes, Kate Steele.  2015 Scholarship Winners: Jen Bergey, Danielle Lewis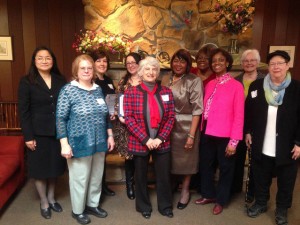 Pictured from left to right: Dr. Lingyan Yang, 20154-15 director of IUP Women's Studies, Arlene Wanatosky, Notable Women committee member; Jen Bergey and Danielle Lewis, Scholarship winners; Vera Bonnet and Dr. Carolyn Princes, Notable Women awardees; Patti Holmes, AAUW VP & Notable Women committee chair; Lil Clemons Notable Women awardee; Joyce Magee and Judith Yothers, Notable Women committee members,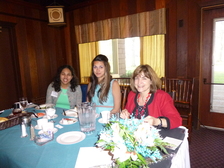 Scholarship Banquet 2014. Scholarship Winners:
Hannah Matthews and Hali Santiago